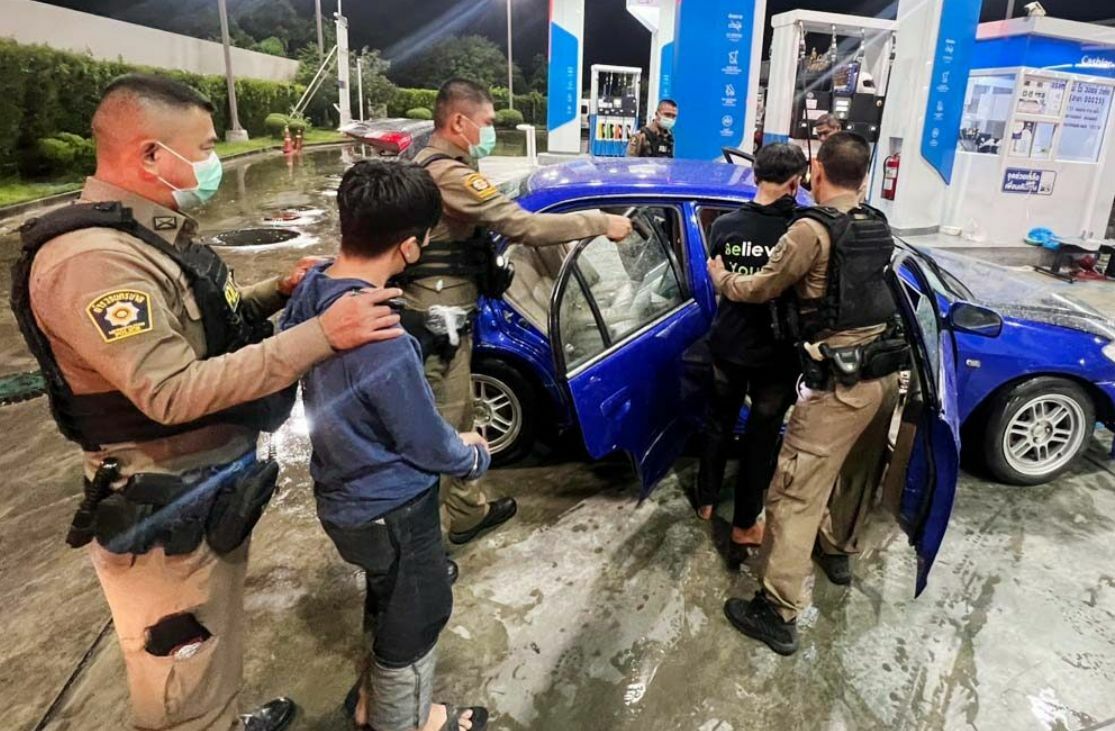 Photo courtesy of KhaoSod.
Four suspects were arrested by Min Buri inspection officers, who seized five handguns and nearly 50 rounds of ammunition. The ammunition arrest occurred at a petrol station in Min Buri, a district of Bangkok, today. The group, consisting of 15 year old A, 19 year old Naphat, 20 year old Natthawut, and 19 year old Chanachon, were found in possession of a series of self-made handguns and ammunition.
The weapons and ammunition were discovered hidden inside a blue Honda Civic vehicle, with registration plate KL 9592 from Nakhon Pathom. It was parked at a PTT petrol station in Min Buri. Intriguingly, the vehicle had no rear license plate. The confiscated items included self-made handguns, modelled after the Glock 19, Sig Sauer P365, Glock 19 Gen 4, and Colt. The ammunition, nearly 50 rounds, varied in size between .380 and 9mm.
The arrest was a result of the police patrol unit, responding to an area of responsibility alert. Upon their arrival at the PTT petrol station, they spotted a suspicious Honda Civic car. The vehicle matched the description of a car involved in a recent incident where a group of teenagers threatened another individual with a gun on August 30, in Soi Puchao Saming Phrai 46, Khlong Samwa, Bangkok.
Upon inspection, the officers found five handguns and nearly 50 rounds of ammunition concealed within the vehicle's storage compartment. Initially, the individuals were charged with "joint possession of firearms and ammunition without a permit" and "carrying firearms and ammunition in public without a permit and without reasonable cause." Following their arrest, the four suspects and the confiscated items were handed over to the Min Buri station for further legal proceedings, reported KhaoSod.
Possession of ammunition poses a significant threat to society. In October of last year, an Israeli tourist was arrested upon arrival at Phuket International Airport when security discovered 55 bullets in his luggage. Read more HERE.
Follow The Thaiger's latest stories on our new Facebook page HERE.
Bangkok NewsCrime NewsThailand News
Bangkok News Articles, Breaking Stories & Headlines | Thaiger