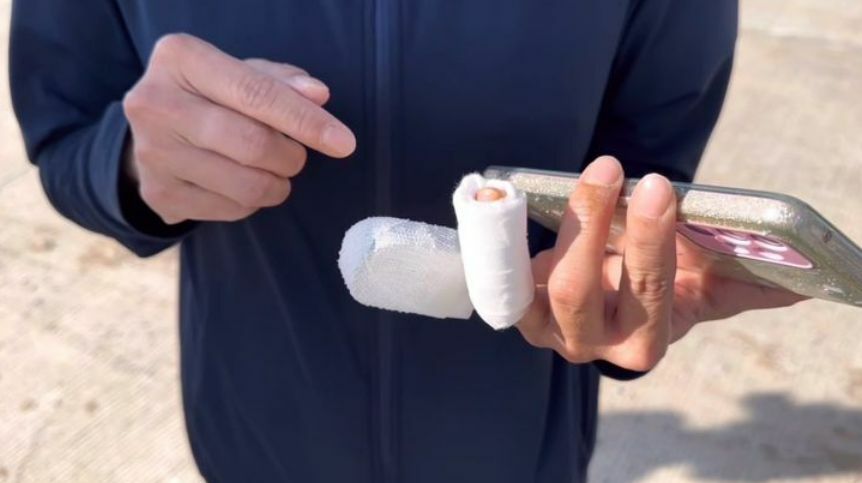 Photo courtesy of Sanook
In an unusual accident involving a remote-controlled plane, a 48 year old woman suffered severe finger injuries and claims the responsible party, allegedly linked to a police officer, took little accountability. The incident occurred at a field near Bang Bua Thong School in Nonthaburi, a popular spot where people play with RC planes.
Pornphat, the woman who sustained the serious injuries, said that she had finished her company job and stopped by the field, a regular hangout spot, before heading home on July 12. While she was playing a game, an RC plane flown by someone in a group of five or six people hit her fingers leading to significant damage. It resulted in one of her little fingers being broken, experiencing significant flesh loss, and her left ring finger suffering a laceration.
After the unexpected RC plane accident, her bandaged hands severely hampered her work life. Daily chores became a challenge as the wounded finger could not bear any pressure so she was limited to using her right hand only. Her usual commute driving her car was too painful, and she had to take taxis, vans, and motorcycles instead. Ongoing medical expenses and regular dressing of her wounds incurred additional costs.
While the party responsible for the RC plane accident paid the original medical bill of 17,179 baht, Pornphat was not content. She feels that payment alone may not be fair justice considering the extent of her physical injuries and mental distress and future medical bills, reported Sanook.
Golf, a 54 year old RC plane enthusiast & good Samaritan, came to Pornphat's aid after the accident and drove her to the hospital. He mentioned that the individual operating the remote control vessel was a novice. He was just trying his first session with the plane, and was unfamiliar with operations, consequently losing control of the <a href="https://www.droneblog.com/drones-vs-RC aircraft. Witnesses allege that he bragged about a relative in the police force at the time.
The RC plane incident and speculation of blame led to the involvement of Kiattikun Ton Yang, or MP Pong, Future Forward Party, Constituency 7. MP Pong expressed concerns over Pornphat's expected 30-day treatment for her recovery and is coordinating with the accused pilot about his alleged negligence.
Meanwhile, Pornphat is considering a lawsuit to ensure compensation since she might have to undergo reconstructive surgery once the wounds heal after the RC plane accident.
MP Pong pressed for clear information and factual representation of crimes and those involved. He appealed that individuals, regardless of their occupational status (or family connections), must not exploit their position to intimidate citizens or deprive legal rights. In the event of misrepresentation leading to damages, the law authorities must step up to safeguard individuals' rights.
Bangkok News Articles, Breaking Stories & Headlines | Thaiger